As I have probably mentioned many times before, ever since I was in college, my weekday TV routine died. Kasi wala akong TV sa Quezon City.

At my first boarding house back in freshman year, the TV only had 4 channels -- ABS-CBN 2, GMA 7, RPN 9 & IBC 13. Even so, I had to fight for airtime from around 10 other senior tenants! Haha! Ano naman laban ko diba, eh hamak na probinsyanong freshie lamang ako, hehe. When I moved to my orgmates' apartment (where I still live these days) 1.5 years later, there was no TV at all. In short, I really had to say goodbye to my regular daily TV viewing habits. Weekends na lang talaga ako nakakapanood.
But having said that, that did not prevent me and my housemates from watching famous TV series in the US. Around 4 years ago, nauuso na yung pag-download ng mga TV episodes.
SMALLVILLE
I think I've mentioned before that I'm a fan. One afternoon, all my housemates were excitedly watching it, so I joined them out of curiosity. And the rest is history.
I've seen all episodes from Season 1 to Season 5 -- through downloads and borrowing of CDs from friends and/or classmates.
Some personal opinions:
Lois Lane and Chloe Sullivan are my favorite characters for their sarcastic wit, haha! I'm not into Lana Lang anymore, particularly since Season 4, I've grown tired of her being the eternal damsel in distress. And if only every parent in the world is as principled as Jonathan and Martha Kent, this planet would be a better place, sobra!
DESPERATE HOUSEWIVES

Same thing, I've mentioned before that I'm a DH addict, so I won't elaborate much. For some quotes, visit my previous posts:
1
2
.
Some personal opinions:
I'm not a housewife (hello..), but I have to choose my favorite character, it would have to be Lynette. I could relate to her strong sense of right and wrong. Even if sometimes, she could already be rude, she wouldn't stop until she gets her points accross. That is so me, haha! Nga pala, kras ko si Gabrielle Solis! Haha! I really love the way she pronounced
Aurora
in Season 2 Episode 8 -- very sexy!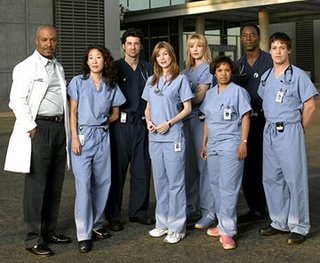 GREY'S ANATOMY

Kuya Argel discovered this series almost a year before it arrived in Phillipines (whether free TV or Cable TV). So practically almost nobody else was talkin about it, hehe. Funny how he was compelled to download it. Kuya Argel thought it was a sexy series because its first scene featured its lead couple naked in the living room, haha! Akala niya puro bold ang show, tapos in the end medical series pala siya, haha! We still loved it anyway. It is also very well written -- it has the right amount of humor, sarcasm and drama. Plus, it's very inspiring because it features lead characters who help people on a daily basis.
First season only had 9 episodes because it was only a mid-season replacement in US TV. At ngayon, katatapos lang yata ng full-length Season 2 nito. And I even read a while ago in the newspaper that its lead the Emmy nominations.
I've only watched up Episode 2 Season 2 because I'm still downloading the other episodes. Thanks to Smart Bro, I can download the episodes myself and I wouldn't have to rely on underground trade of pirated goods to get my AVI fix of this TV series.
"There is nothing worse in the world than thinking you have a chance when you really don't." -- Meredith Grey
Some personal opinions:
Don't we just love complicated love stories like Meredith and Dr. McDreamy's? Haha! Dito naman, ang kras ko si Izzy (syempre siya lang naman ang isa pang maganda, aside from Renee look-alike Meredith! Ala ngan namang si Cristina Yang). And I could relate to George's kung-ako-ba-siya-mamamahalin-mo drama, wahaha!
PRISON BREAK

Another EEE classmate, Jeric, introduced me to this series last February. I was borrowing something else from him when he asked if I've heard of
Prison Break
. He said it was good and coincidentally, he was bringing his copy of the first episode. So I agreed to give it a try. I wasn't addicted on the first episode unlike on
Desperate Housewives
, but I sure hell was intrigued. I couldn't imagine how Michael Scoffield and his brother escape a high-security facility like Fox River State Penitentiary. So around a 2 weeks later, Jeric gave me a copy of the first 13 episodes. Haha! Kaya ayun, na-addict din ako eventually. I've actually just finished the whole Season 1 just this Friday.
Some personal opinions:
Kahit addict ako nito, nakaka-stress talaga siya panoorin! Sobra! The series is captivating not because of its humor or romantic angle. Suspense kung suspense talaga! It's like you'll never get enough of frustration, setback, depression and injustice. And of course -- intrigue. Despite the stress it brings, curiosity will get the best of you, you'd still watch the series. Dito naman, ansarap iuwi sa Mama ko si Dr Tancredi! Haha! Kahit na medyo duling ang mga mata niya, my heart really goes out to her.
All four TV series will resume airing on either September or October. Antagal pa! Haha! Naiinip na ako. So far, Grey's Anatomy pa lang ang hindi ko natatapos, kasi nga dinadownload ko pa. I don't know if i can still consider these shows as part of my "TV viewing routine", kasi kahit TV shows sila, hindi ko naman sila sa TV napapanood! Haha! Anyway, my next targets are
Lost
and the
Ghost Whisperer.
Antagal ko nang naghahanap ng source for
Lost
!